Global institutional investors and lenders are pulling back as the COVID-19 pandemic tightens its grip on Africa. A call by the Group of Twenty (G20) last April for private sector abstention in the form of a temporary halt in interest payments was ignored. One possible solution is for the three global credit rating agencies to provide the analytical muscle that could help break this deadlock.
Fitch Ratings, Moody's Investors Service and Standard & Poor's Financial Services have done business during the pandemic by doing what they always do: provide credit ratings and warnings on corporate and sovereign borrowers. The pandemic has forced global policymakers to introduce unconventional measures to deal with economic and public health damage. But on the central question of how African governments should respond to this unprecedented humanitarian crisis, the private sector is pursuing a rigid approach. The situation must change.
The facts are well known, but bear repeating. As the virus first spread across the world, G20 leaders agreed to suspend the debt of seventy-three low-income countries, many of them in Africa. At the end of July, 41 countries had requested relief that would free up about $ 12 billion in debt service this year. In July, the G20 reiterated its call on banks and international investors to abstain valued $ 45 billion in private sector external debt payments owed by African sovereigns this year.
In the past two months, the pandemic has gained momentum across Africa. Testing in many countries is limited, but more than 1.2 million cases have been reported, with over 600,000 in South Africa alone. Beyond the immediate toll, the derivation limited resources from other critical programs, particularly the treatment and prevention of AIDS, tuberculosis and malaria, increase the toll of the crisis. In a recent report, the World Food Program valued that "the number of acutely food insecure people in East Africa could increase by 73 percent" to reach 41.5 million by the end of 2020.
Rating agencies have been diligently monitoring the financial impact of the crisis. In its August 13 "Credit Outlook" report (available only to paying customers), Moody's estimated that even after official G20 debt relief, eligible countries would face "a shortfall of around 40%. billion dollars "by the end of the year and" a negative outlook for a number of sovereigns[,] highlighting the challenge they face, whatever the [G20] initiative."
Moody's has downgraded Ethiopia for "its stated intention to seek public sector debt service relief" as part of the G20 initiative and placed Cameroon, Ivory Coast, and Sengal under the symbol "review for decommissioning". In its August 13 report, Moody's says some governments have continued to pay their private creditors even after obtaining official relief, and "[a]Therefore, the risk of [private sector involvement] in all or most cases seems to have decreased. Some of the 32 countries that chose not to participate in the initiative have privately indicated that they are concerned about the threat of downgrading.
Fitch warned A few days after the announcement of the G20 initiative, the "preferred creditor status" of development banks like the World Bank could suffer if developing countries suspended their debt payments. This led the G20, in its communicated, to call on these institutions to protect their current ratings even as they "go further" in their support for debt relief.
Public pressure on lenders and bondholders to join the G20 effort, including the UN agencies– does not give results. The main banks lending to Africa have called for case-by-case negotiations. And in April declaration, bondholders have expressed opposition to a "rushed, comprehensive approach" to debt relief, saying "future generations of Africans will need access to private capital to invest in hospitals, roads, education, health systems and other infrastructure essential for economic and societal development. "
Many bondholders don't seem to understand that the pandemic is much different from a financial crisis that has its origins in market failures. The exposures to Africa of institutional investors and global banks represent only a small portion of their portfolios. There is little risk of a wave of sovereign defaults simply because of the temporary shutdown of the G20.
Over the past decade, most African governments have proven to be reliable partners in global finance, rewarding investors with significantly higher returns than those available from treasuries or gilts. Instead of lecturing countries on preserving the sanctity of the "credit culture", perhaps it is time to discuss burden sharing. There are many precedents for this, as evidenced by the recent debt relief for bondholders. agreement with Argentina.
It is therefore time that the rating agencies, which have considerable leverage in influencing the private sector, took a more active role in the search for a sensible solution. What can be done?
Perhaps there should be a shared public-private deal for a suspension of payments on African sovereign debt, with a firm commitment by governments to honor what is owed to the private sector after the International Monetary Fund (IMF) raised the green flag that economic conditions have improved. Rating agencies could provide independent economic assessments, as they always do, but they should imperatively suspend rating judgments as long as the status quo is in effect. Global cooperation during the pandemic will require finding such innovative and original solutions.
Furthermore, what is needed after the pandemic is an independent review of Eurobonds and other contracts signed by African governments. These contracts are heavily biased in favor of creditors, with no flexibility to deal with emergencies like a pandemic. Over the past two decades, creditors have introduced collective action clauses into sovereign bond contracts to facilitate the orderly resolution of debt crises. Consideration should be given to a clause in bonds issued by low-income countries to suspend interest payments under extraordinary conditions, with the tacit support of rating agencies.
It all comes down to the need for global leadership and cooperation. Signals from international agencies like the IMF are that the economic slowdown in developing countries is likely to result in the long run healing. This means that the debt crisis will not just "go away", as some executives predicted for the virus itself.
Rating agencies should offer a nuanced understanding of the unique needs of African nations. The G20 and global regulators have the power to persuade international investors that a little tolerance could save lives and livelihoods. But it requires more political will than it has shown so far.
Vasuki Shastry, formerly of the IMF and Standard Chartered Bank, is Associate Researcher at Chatham House and author of "Resurgent Indonesia – From Crisis to Confidence".
Jeremy Mark was a senior communications advisor and speechwriter on the IMF's management team and previously an award-winning reporter for the Asian Wall Street Journal.
Further reading: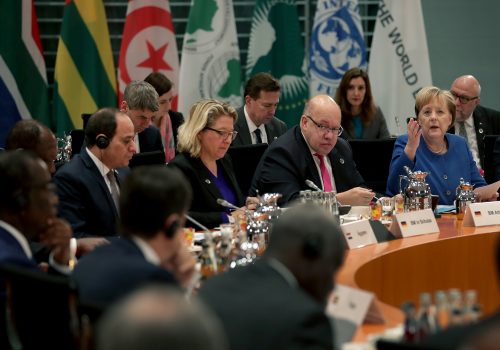 Tue 4 Aug 2020
The meeting of the Group of Twenty (G20) finance ministers last month proved that the international community is too cautious to help Africa in these difficult times. Is the G20 ready to face the consequences of its inaction?
New Atlanticist
through
Vasuki Shastry and Jeremy Mark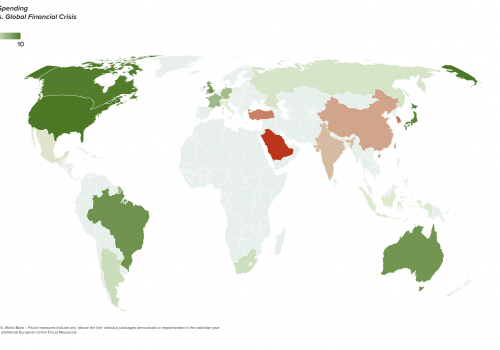 Wed March 10, 2021
Our new fiscal firepower heatmap, updated to March 2021, shows how spending from the G20 COVID-19 crisis now compares to the global financial crisis. While nearly all countries deployed their fiscal firepower well over a decade ago, China still spends less.
EconoGraphics
through
Geoeconomics Center
Source link